Fishermen, sightseers, and even history buffs will find plenty of reasons to take a quick trek to the Sunset Beach Fishing Pier, a sprawling wooden pier that is conveniently located at the end of Sunset Blvd., the main road on and off Ocean Isle Beach. Veritably located where the pavement meets the sand, the local landmark features plenty of on-site entertainment that begins with fantastic fishing, but also includes great eats, prized souvenirs, and a bit of local history that lies just underneath the rugged pier planks.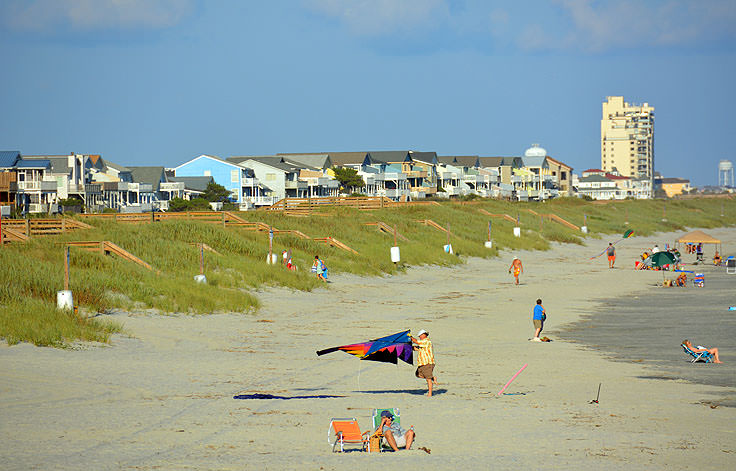 The Sunset Pier was originally built in June of 1960, but had to be rebuilt in 1976 thanks to years of wear and tear and passing hurricanes, and today the structure stands tall in its current location in the heart of Sunset Beach. In its current site, the pier hovers above the remnants of the sunken 1864 blockade runner, the Vesta, which was unloaded along the beach in 1864, and then set on fire in 10' feet of water. When the pier was first constructed, the planks were placed far enough apart so that pier visitors could peep downwards and spot the ship's boiler just peeking out above the ocean floor. Today, the vessel is fully submerged, although locals swear that bits and pieces of the ship are occasionally uncovered, at least for a while, with a passing hurricane or strong nor'easter.
With this unique bit of history as a starting point, the pier hosts regular historical guided tours that uncover the stormy history of the pier itself and the Sunset Beach region. With fascinating insights into the Civil War and regular brushes with hurricanes and famous storms, this $1.00 walking tour is a bargain, and a scenic way of diving into the stories of this seaside town.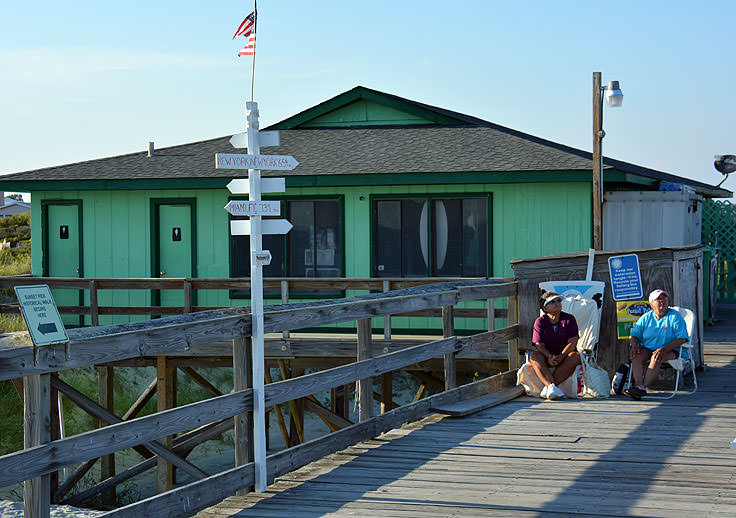 Of course, the big lure of the pier for the majority of its visitors is the incredible fishing, and the 905' foot long structure features plenty of elbow room to cast off into the ocean waters below. The pier is lighted for night time fishing, and features dozens of high wooden benches which serve multi-purpose functions as benches, bait stations, and gear and cooler holders.
In the spring months, visitors can be on the lookout for drum, bluefish, striped bass, and sea mullets, while the summer fishing season is dedicated to a range of species, including blues, flounder, Spanish mackerel, mullets, speckled trout, sharks, spots, and king mackerels. In the fall, the fishing really heats up, as the red, black and puppy drum return when the ocean waters cool, and favorite local species, like speckled trout and flounder, are still biting hard and often.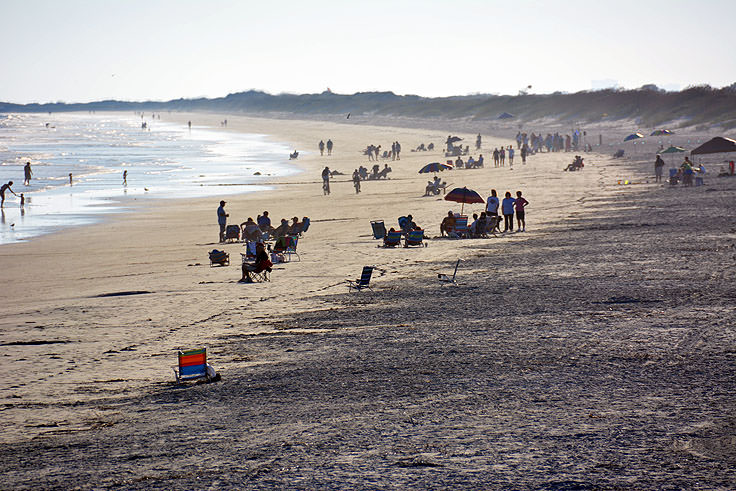 The pier is open seasonally, typically from the 1st Saturday in March until the Sunday after Thanksgiving, and fishing passes can be purchased on a daily, 3 day, 5 day, or even annual basis. A daily pass runs around $8.00 per pole, while visitors who plan to hit the pier often during their Sunset Beach stay should look into a 3 day pass at $21.00, or a 5 day pass at $36.00. King fishing rates which require additional equipment are also available at a slightly higher rate.
The pier shop features a nice bait and tackle shop, with local experts on hand who are in tune with the right bait and gear needed to land the most coveted seasonal catches. From live shrimp and mud minnows to chicken necks, anglers will find everything they need at the pier house, including rod rentals in case they left their gear behind. The pier is open daily, generally from 6:00 a.m. until 1:00 a.m., giving anglers a full day (and night) of fishing action.
The pier house also features a snack station with plenty of chips and munchies, (and even a pool room for a little indoor break or a casual evening out), as well as an on-site grill which serves up breakfast, lunch and sugary snacks from 6:00 a.m. - 11:00 p.m. With breakfast served all day, anglers can replenish their energy with hearty biscuit sandwiches, or enjoy a fast and tasty lunchtime meal with a Philly cheese steak, BBQ sandwich, burger, or even a delicious grouper sandwich. The grill is open to all beach-goers, not just pier patrons, so sunbathers who are lounging nearby are welcome to stop inside and grab a hot bite to take back and enjoy on the sand.
The pier also features an annual fishing contest, where anglers who catch the largest fish in one of four categories can score a free annual pier pass, as well as an online pier cam so die-hard fishermen can see, at a glance, the current water and weather conditions. The pier cam is located on the Sunset Beach Pier's website.
A must-stop for anglers, but an equally engaging destination for curious island newcomers, the Sunset Beach Pier is a can't miss local landmark where thousands of vacationers have reeled in a trophy worthy catch, or at least a good fish story or two. Easy to locate and even easier to enjoy, a walk along the pier or a full fishing vacation is sure to make everyone's Sunset Beach vacation a completely unforgettable event.
Is this your business? Update your listing by messaging us